Presenter at Buddhafest LA
With Lama Tsultrim Allione
June 1 - 3, 2018
We are excited to announce that this year Buddhafest (Los Angeles, CA) will count with the presence of pioneer Buddhist teacher Lama Tsultrim Allione as one of the presenters alongside Sharon Salzberg, Jack Kornfield, Ram Dass, Lama Surya Das, Trudy Goodman and Joanna Hardy.
On Friday, Lama Tsultrim will be narrating the Tibetan Book of the Dead together with Lama Surya Das during an opening night concert performance with singer-songwriter Tenzin Choegyal. On Saturday, she will give a talk on Feeding Your Demons as part of a day filled with lectures, meditation sessions and panel conversations with other eminent teachers and presenters. On Sunday, she will teach a daylong intensive on her upcoming book, Wisdom Rising: Journey into the Mandala of the Empowered Feminine.
Read below for more details on her Saturday talk and Sundaydaylong intensive:
Saturday – Talk on Feeding Your Demons®: Ancient Wisdom for Resolving Inner Conflict
Inspired by the ancient practice of Chöd from the 11th Century Tibetan teacher Machig Labdron, "Feeding Your Demons" is a five-step process created by Lama Tsultrim Allione that allows one to offer compassion and understanding to one's own inner demons rather than engaging in struggle with them. This revolutionary paradigm shift has both personal and collective implication of feeding not fighting that which assails us. The method develops the potential for deep healing and allows the psyche to move from polarization toward integration. The process is of great benefit when working with a wide variety of both personal demons, including anxiety, depression, addictions, chronic pain, fear, anger, relationship challenges, and other challenges of contemporary life. This talk will include a substantial experiential component and allow for a questions and answer period.
Sunday Intensive with Lama Tsultrim – Transform Your Emotional Patterns with the Five Dakinis
In this intensive, you'll meet the energies of the "five dakinis," the dancing embodiments of feminine wisdom in the Tibetan Buddhist tradition. These dakinis manifest the sacred feminine energy that has been stripped from many religions and cultures — energy that is so desperately needed in the world today. You will meet the Mandala of the Five Dakinis, helping you to transform five constricting emotional patterns into power and strength.
This intensive is based on Lama Tsultrim Allione's new book: Wisdom Rising: Journey into the Mandala of the Empowered Feminine (Simon & Schuster May 2018).
Teacher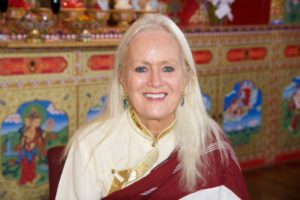 Lama Tsultrim Allione
Lama Tsultrim Allione is founder and resident lama of Tara Mandala.  She is author of Women of Wisdom and Feeding Your Demons. Born in New England to an academic/publishing family, she traveled to India in her late teens and was ordained as a Buddhist nun at the age of 22…
Learn more about Lama Tsultrim Allione