Demons in Love: The 5-Step Feeding your Demons FYD® Approach
With Lama Tsultrim Allione
July 15, 2018
This daylong is a benefit event for Spirit Rock and Tara Mandala.
Perhaps there is no place in our lives where our demons show up more intensely than in our relationships: jealousy, fear of abandonment, grasping, anger, control, and grief. Inspired by an ancient practice from Tibetan Buddhism, best-selling author of Feeding your Demons, Lama Tsultrim Allione, will share the practice of FYD® a 5-step process of nurturing our demons rather than fighting them.
During this day retreat together, we will work with the demons that surface in all kinds of relationships, and explore how to shift the paradigm from fighting to feeding.
Teacher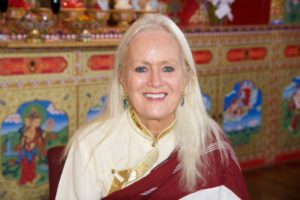 Lama Tsultrim Allione
Lama Tsultrim Allione is founder and resident lama of Tara Mandala.  She is author of Women of Wisdom and Feeding Your Demons. Born in New England to an academic/publishing family, she traveled to India in her late teens and was ordained as a Buddhist nun at the age of 22…
Learn more about Lama Tsultrim Allione