Benefit for Tara Mandala and Dongyu Gatsal Ling Nunnery
With Jetsunma Tenzin Palmo and Lama Tsultrim Allione
July 1, 2018
An Afternoon of Intimate Dialogue.
Join us for an intimate afternoon with two of the most well-known and influential female Buddhist teachers in the West today, Jetsunma Tenzin Palmo and Lama Tsultrim Allione. They will answer audience questions and share stories and insights from their many years of Dharma practice and teaching. There will be a tea break with a chance for book and CD signing. Following the dialogue will be a delicious vegetarian dinner.
For those attending the Three Yana or Mahayana retreats, this event is included.
This event benefits Tara Mandala and Dongyu Gatsal Ling Nunnery, founded by Jetsunma Tenzin Palmo. Learn more at tenzinpalmo.com.
Schedule:
2:00 – 3:00 pm Registration; store will be open for book & CD purchases
3:00 – 5:45 Dialogue
6:00 – 7:00 Dinner
Teachers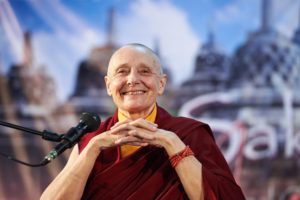 Jetsunma Tenzin Palmo
Jetsunma Tenzin Palmo was raised in London. In 1964, aged 20, she traveled to India to pursue her spiritual path and met her Teacher, His Eminence the 8th Khamtrul Rinpoche, a Tibetan Buddhist Lama. She became one of the first Westerners to ordain as a Tibetan Buddhist nun. The inspiring…
Learn more about Jetsunma Tenzin Palmo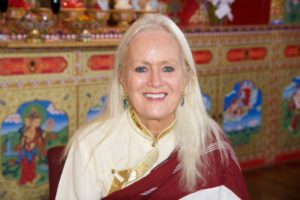 Lama Tsultrim Allione
Lama Tsultrim Allione is founder and resident lama of Tara Mandala.  She is author of Women of Wisdom and Feeding Your Demons. Born in New England to an academic/publishing family, she traveled to India in her late teens and was ordained as a Buddhist nun at the age of 22…
Learn more about Lama Tsultrim Allione