Mahayana: Vast View, Open Heart
With Lama Tsultrim Allione
June 13 - 20, 2017
This retreat will explore new developments that took place during the Mahayana period such as the Prajnaparamita Sutra, Madhyamaka and Yogacara philosophies, Buddha Nature, and the greater emphasis on compassionate motivation. Meditations on Tonglen, the Four Immeasurables, and the Six Paramitas will also be taught.
During the retreat there will be noble silence and six hours of practice per day as well as two hours of teachings by Lama Tsultrim and invited guest teachers. An optional oral exam will be given at the end of the retreat. We are sorry that we cannot accommodate children on the land during this retreat.
*No prerequisite required.
This is a required retreat for the Magyu Mother Lineage and Gateway Programs.
Teacher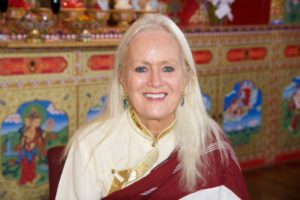 Lama Tsultrim Allione
Lama Tsultrim Allione is founder and resident lama of Tara Mandala.  She is author of Women of Wisdom and Feeding Your Demons. Born in New England to an academic/publishing family, she traveled to India in her late teens and was ordained as a Buddhist nun at the age of 22…
Learn more about Lama Tsultrim Allione