Chöd: From Chögyal Namkhai Norbu
With Lama Tsultrim Allione, Lopön Chandra Easton and Karla Jackson-Brewer
April 26 - 30, 2017
Chöd is a unique blend of the Tibetan Shamanic traditions and the Buddhist tradition of compassion and emptiness. This centuries-old practice is sung and is accompanied by the use of a traditional Chöd drum and bell. Healing comes when fear, fixation, and self-clinging are cut through, when we nurture and don't fight what assails us. This gives rise to the awareness of the empty nature of afflictive emotions. Lama Tsultrim will teach the first day and a half. Karla and Lopön Chandra will teach the final three days.
Required materials: The Chöd practice requires a Chöd drum and bell, both of which are available through our store, online at http://dakinibookstore.mybigcommerce.com/. Also recommended is a headlamp or small book-light for night practice.
This is a required retreat for the Magyu Mother Lineage Program.
Teachers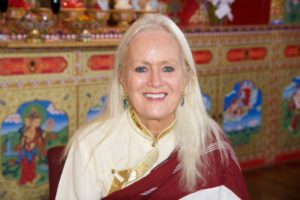 Lama Tsultrim Allione
Lama Tsultrim Allione is founder and resident lama of Tara Mandala.  She is author of Women of Wisdom and Feeding Your Demons. Born in New England to an academic/publishing family, she traveled to India in her late teens and was ordained as a Buddhist nun at the age of 22…
Learn more about Lama Tsultrim Allione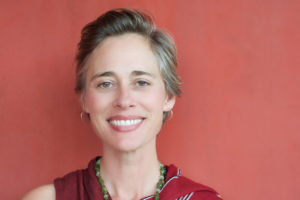 Lopön Chandra Easton
Lopön Chandra Easton is a teacher and translator of Tibetan Buddhism, focusing on the lineage of Machig Labdrön and Lama Tsultrim Allione. She has taught Buddhism and Yoga since 2001 and co-translated "Sublime Dharma: A Compilation of Two Texts on the Great Perfection." She is currently on the Tara Mandala Bay Area…
Learn more about Lopön Chandra Easton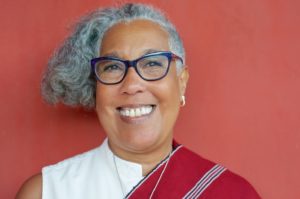 Karla Jackson-Brewer
Karla Jackson-Brewer, MS, Tara Mandala Authorized Teacher, has been practicing Chöd for 26 years and has assisted Lama Tsultrim on many Chöd retreats. Since 2013, she has taught Chöd with Lama Tsultrim and Chandra Easton. Karla is an adjunct Professor in the Women's & Gender Studies Department and the Africana…
Learn more about Karla Jackson-Brewer