Machig Labdrön in Bhutan: Two Week Pilgrimage
With Lama Tsultrim Allione
October 22 - November 7, 2017
Join us for this rare opportunity to go on pilgrimage with Lama Tsultrim Allione to one of the last independent Vajrayana Buddhist countries in the world.
Letter from Lama Tsultrim
Dear Tara Mandala Community,
Several years ago I was contacted by a Bhutanese woman, a scholar with a PhD in Women's Studies from Australia, she had had dreams about me and many auspicious signs. She told me about Druk Zangri Khamar, the seat of Machig's lineage in Bhutan named after Machig's seat in Tibet Zangri Khamar. Their lineage originated from the 3rd Karmapa Rangjung Dorje and continues through the Karmapas and the great female master Shugsep Jetsun Rinpoche (1852–1953), revered as one of the last century's best known woman teachers, who passed away at the age of 101 in Tibet. It was introduced to Bhutan and established at Druk Zangri Khagmar, in Rawabi village, Lhuentse, Eastern Bhutan by Trulshik Rigzin Lingpa Rinpoche and his heart student Togden Tsewang Choephel in the 1950s.
Many auspicious coincidences followed that led to Tara Mandala Board of Trustees President, MacAndrew Jack, professor at Naropa University, to visit the monastery and spend five amazing days there with his family. He returned with wonderful stories and photos as well as an invitation from the current abbot requesting me to visit.
Now it seems this auspicious connection will come to fruition and happens to occur around the time of my 70th birthday. After lots of planning we are excited to announce a Two Week Pilgrimage to Bhutan from October 22 – November 7, 2017. The primary focus of the pilgrimage is to visit and receive teachings at Druk Zangri Khamar. We will also visit Paro Taktsang, Machig Labdrön's cave, the most sacred sites of Guru Rinpoche in Bhutan, as well as the sites connected to terton Pegyal Lingpa where we will meet his extraordinary reincarnation. This is an incredible opportunity to go on pilgrimage to one of the last independent Vajrayana Buddhist countries in the world that values Gross National Happiness over Gross National Product, and the first carbon negative country in the world.
I hope you can join me on this extraordinary journey.
Warm Blessings,
Lama Tsultrim
Detailed Itinerary
All group members are requested to arrive at least a day ahead in Bangkok, Thailand.
Oct 22: Group departs from Bangkok, Thailand to Paro, Bhutan. Stay in Paro.
Oct 23 and 24: We will begin our journey in the Paro Valley, visiting Pegyal Lingpa's monasteries and Paro Taktsang (Tiger's Nest), the majestic temple complex built around the cave where Guru Rinpoche, Padmasambhava, meditated for three years.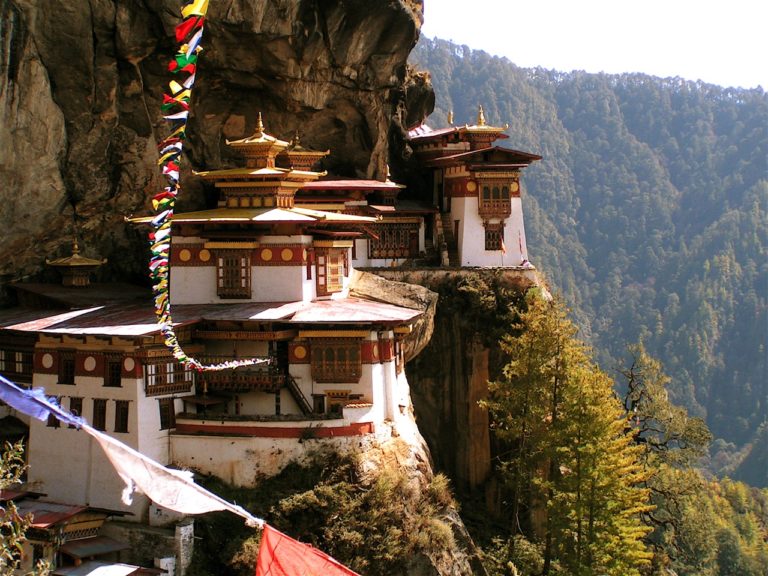 Oct 25 and 26: We will then travel to Bumthang, the central and most historic area of Bhutan to visit sacred sites including: Kurje Gompa, where Guru Rinpoche left a body print, and Membar Tso (Burning Lake), where Guru Rinpoche hid termas in a rushing river, Jambay Lhakang, one of the most ancient Bhutanese temples built in the 7th century by Tibetan Dharma king Songtsan Gampo, and Tharpa Ling, the mountain hermitage monastery founded by Lonchenpa.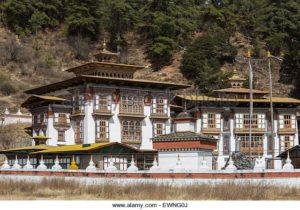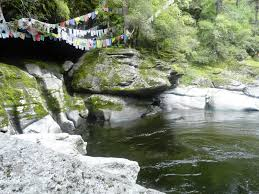 Oct 27 to Nov 4: We will spend our last week at Druk Zangri Khamar, a monastery on a beautiful ridge overlooking Tibet, linked to the Chöd lineage that originates from the 3rd Karmapa Rangjung Dorje and related to Machig Labdrön's seat in Tibet, Zangri Khamar. Here at our 'sister center' across the world, we will practice, receive empowerments, and teachings on Machig Labdrön's lineage.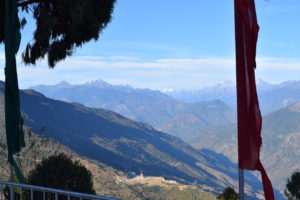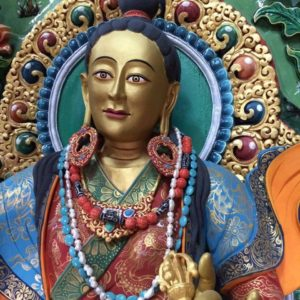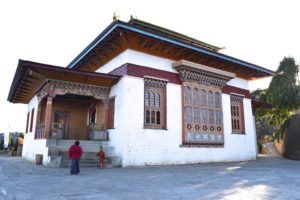 Nov 5: Return to Bumthang
Nov 6: Flight from Bumthang to Paro
Nov 7: Group departs from Paro to Bangkok, Thailand.
Traditionally pilgrimage is considered to be an important way to gain merit, purify our karma, and deepen our practice due to the blessings of sacred places. Although we will do our best to make everyone comfortable during pilgrimage, there may be obstacles, discomforts, and changes that are unpredictable. A pilgrim needs to be aware we will be traveling in areas where the infrastructure is much more primitive than the west. We ask that you take out your own medical/travel insurance and consult your own doctor about immunizations.
Acceptance to the pilgrimage is by application and there are prerequisites for this pilgrimage:
You must have been in either of Tara Mandala's practice programs, Magyu or Gateway, (for at least a year) OR you must have done at least three retreats in person with Lama Tsultrim.

You also must have learned the Chögyal Namkhai Norbu Chöd in retreat or online. Parchangma Chöd is recommended though not required.

You can register for the

o

nline course on Chögyal Namkhai Norbu Chöd here. (webcast transmission coming this Winter or Spring.)

You must be in good physical and mental health and be able to camp (albeit with a comfortable mat and pillow!).
Lama Tsultrim will review all applications. You will be informed about your acceptance in the shortest delays.
Charges
Cost: $5,980 per person (double-occupancy)
Cost includes all lodging, travel, and meals starting October 22nd when the group arrives in Paro until November 7th when the group departs Paro. The roundtrip flight from Bangkok to Paro is included. Participants have to cover the airfare to and from Bangkok as well as any costs for hotels or transportation in Bangkok.
• $5,980.00. The first payment of 50%, ($2990) is due with registration. $850.00 of this is non-refundable.
• The final payment is due by July 7, 2017.
Cost Includes:
All lodging, travel and meals

Roundtrip Bangkok to Paro

All inland transport including the roundtrip flight from Bumthang to Paro

Visa fee for Bhutan

All entrance fees to the sites

All guide fees
Cost Exclusions:
Airfare to and from Bangkok

Any accommodation, transportation or meals in Bangkok

Insurance is the personal responsibility of tour members

Dana at Druk Zangri Khamar or other monasteries (suggested $150 – $500)

Any tips for drivers, waiters or guides

Personal items such as laundry, bottled water, alcoholic and special drinks

Any hotel fees and meals not included in itinerary